What to Expect During Construction.
We want you to be informed every step of the way. As our teams construct the fiber network in your neighborhood we'll be reaching out by mail, email, and even knocking on your door to keep you in the loop. The website map for your area (found on your city's "Locations" page) will always show the most up-to-date information on progress in your neighborhood. If you have any questions or concerns, please use the contact form below to get in touch.
Construction Steps
1

Design

2

Construction

3

Splice/Test

4

Ready for Install
Before you even hear about ALLO in your neighborhood, we are working to design the fiber cable paths throughout your community.
Engineers decide the most efficient way to bring fiber optics to the greatest amount of people in your area.
Contractors, city officials, and ALLO collaborate on the fiber path design and submit to the city for approval.
Once approved, ALLO partners with local contractors to begin the construction process.
In an effort to provide advanced notification of construction, ALLO will utilize various communication avenues such as social media, yard signs, ALLO website updates, neighborhood association meetings, email communication, direct mail communication, and a notice placed directly on your front door.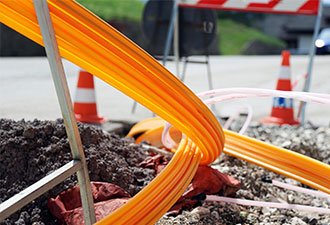 The main fiber pathways are constructed to the distribution points located throughout the city.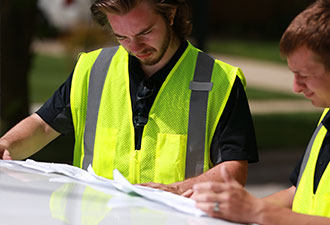 Contractors and utility employees arrive in your neighborhood to mark the locations of existing lines in preparation for local construction.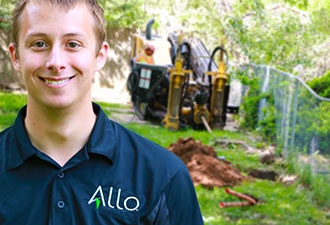 We construct the fiber path from the distribution points directly to utility easements in your neighborhood.
Our splicing team accesses each splice vault and pedestal throughout the city to fuse the individual fibers that will eventually connect to your home or business. Then we test the speed of light as it passes through the fiber to make sure your connection is GIG-fast.
The ALLO team parks a splice trailer near the splice vault in your neighborhood to separate the individual fibers that will eventually connect directly to your home or business.
The fiber is tested to ensure a clean, continuous path for the light to travel down.
When splicing and testing are complete, the cables are sealed in an air-tight splice case and coiled back into the splice vault, ready to be accessed for individual installations.
Two to four days prior to installation, technicians arrive to connect the fiber to the side of your home or business.
Two days prior to installation, technicians arrive to connect the fiber to the side of your home or business.
Your ALLO technician brings a direct fiber connection into your home or business and connects it to our (included) GigaCenter router.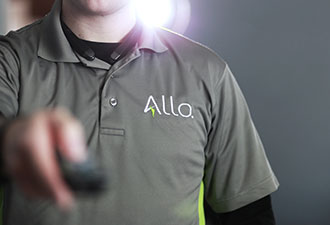 We test your wireless range, walk you through our TV quick guide, help you set up additional devices, test your phone line, and ensure you're ready to fully enjoy the fiber future with ALLO.
Contact Us
Please complete this form to communicate construction questions, concerns, or complaints with our team. Non-emergency requests are handled within four business days.
Please call us for situations requiring immediate attention:
866.481.2556
Stay In the Know!
We'll keep you up to date with the latest news and information regarding ALLO service and availability in your area.