Fiber Installation
ALLO runs fiber optic cables from the street directly to your home. The other guys are running copper cables from the street to your home. So while you're technically connected to the street fiber, their copper cabling comes with all the downfalls of outdated technology; significant speed decreases, service blips, and an unreliable connection. In addition the superior service experience of a fiber connection, we back it up with dedicated and knowledgeable local support.
The fiber optic signal is made of light which entails very little signal loss meaning data moves at a higher speed over a greater distance. Our fiber installation ensures you're getting reliably fast Internet (up to 1 gigabit!), even during peak times. Fiber allows you to upload just as fast as you download. Bad weather doesn't affect fiber because the core is glass making it immune to interference. Additionally, fiber makes your data safer since it's incredibly difficult to tap into compared to copper cable. We could go on, and we did! Check our ALLO blog for more information about the fiber future.
The first step to building a gigabit community is constructing the underground infrastructure needed for our fiber-to-the-home service. Ducts are run underground which hold the fiber optic cable and connect to pedestals we install to house the wiring. Installation to your home will be either underground or aerial, usually following the same route as existing telephone or television cabling. ALLO will access front and back yards depending on where your neighborhood power and communications utilities are located.  Next, fiber is run from the pedestal in your neighborhood easement and installed on the side of your house within a fiber interface box. It looks like this: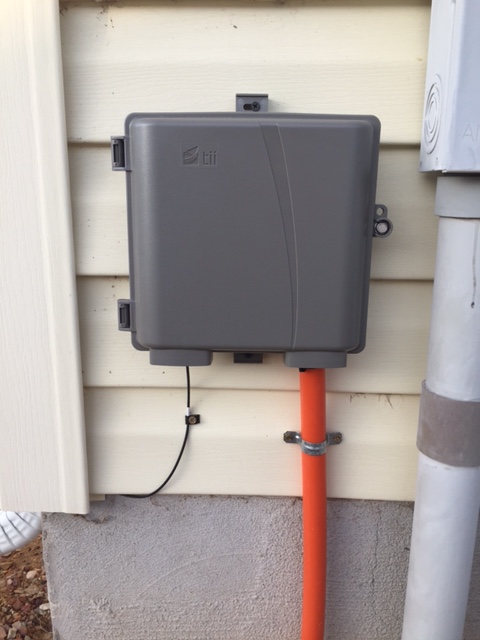 When we bring the fiber optic cable into your home, our technicians will try to make use of existing holes (perhaps made by previous providers to pull in their cable). If any drilling is required we'll speak with you to ensure your approval of the location and necessary construction. Here's what it looks like when we pull the fiber into your home from the interface box:
Throughout the process we will keep you informed and respond to questions while respecting your privacy and property. For an in-depth look at our installation process, read Kami's Installation Story here.
Moving and Disconnecting
If you're moving to an ALLO serviceable area, give us a call to schedule a service move. Our technicians will pick up the equipment at your old address and install it at your new home the same day. And because we know moving is hassle enough, we provide this service to you at no extra cost.
No, our service is contract-free.
No. If you're unhappy with your service you can disconnect at any time with no financial penalty. We'll even schedule a time for a technician to recover equipment.